Maradona and Messi: thirty years apart, but the same story
On January 8 1984, Diego Maradona returned from injury to score twice at the Camp Nou
This Wednesday, Messi repeated the feat with his brace against Getafe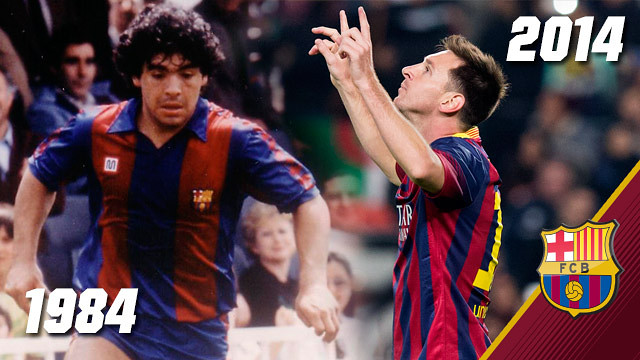 Diego Armando Maradona and Leo Messi have plenty in common - they are both Argentineans, are amongst the best players ever and have played for FC Barcelona. It's not just the big things though and on Wednesday another small coincidence was thrown up.
On 8 January 1984,at the Camp Nou, Diego Armando Maradona made his comeback after a serious injury he'd picked up a few months before at San Mames.
It was the first game of the year and Barça were playing Seville - Maradona started, playing for 68 minutes - and scored twice in the 3-1 win
After teh game, Maradona declared: "I'm really happy. Mne was a good performance, but I have to thank my team mates who made it easy for me, and especially the warm reception from the fans. No matter how many goals I score, I'll never be able to repay that love from the crowd".
Exactly 30 years later, the story was repeated, with Leo Messi grabbing the headlines.
The Argentinean had been out since November and came off the bench in teh Cup game against Getafe for the last 30 minutes to score two goals in a memorable cameo.
Similar sentiments
In his after match comments, Messi also echoed Maradona, explaining: "Whilst the fans show their love for me, I want to play out my career here at Barça", whislt also praising his teammates: "the squad has shown how good it is. Whoever plays, we put in a performance - this is a squad of players who stand up to the mark".
It was also against Getafe - on April 18, 2007 - that Messi scored a copy of Maradona's famous goal against England in 1986, when he dribbled through half the team from his own half to fire home.